No Insurance? No Problem!
Access Dental Now™ makes high-quality dental care affordable.
We believe that everyone should be able to enjoy exceptional dental care at a terrific price, regardless of whether you have insurance or not. A host of high-quality dental services, from regular cleanings to cosmetic procedures, is now more affordable than ever with Access Dental Now™, Choice One Dental's signature membership program.
Numerous Benefits With Access Dental Now™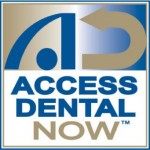 Sometimes it's nice to be told no. With Access Dental Now™, there is no waiting, no paperwork involved and no cap on benefits. Other advantages of the program include:
An unlimited annual treatment plan
Ease of paying the discounted amount at your visit
A selection of affordable plans on various dental treatments
Affordable Dental Plans for Everyone
Individual plans are a low $99 a year.
Group dental plans are ideal for associations, businesses or other types of organizations. Employers can also provide Access Dental Now™ as an attractive part of their benefits packages.
Family dental plans are just $199 annually, for up to 5 members of your family.
Senior dental plans, available for those 59 and better, allow participants to enjoy quality dental care at the low rate of $69 annually or $129 for a married couple.
Frequently Asked Questions
Q: How soon can I use the plan?
Right away! Access Dental Now™ members can enjoy the benefit of using their plans immediately with any of our Choice One Dental Care® Providers. That means you can use it the same day you sign up. You can even wait until after your appointment to sign up and save right away!
Q: How much can I save using the plan?
Though patients usually save 30% on average, your practice representative can provide details about how much you would likely save with Access Dental Now™.
Q: How long does it take to sign up?
Signing up is quick and easy. It only takes a few minutes to become a member. You just need to provide some essential information along with payment to start your membership.
Q: When will I get a membership card?
A few days after signing up you will receive your welcome kit in the mail. This kit contains your individual Access Dental Now™ membership card along with important information about oral health and enhancing your smile.
Q: What should I expect at my first appointment?
With your membership you'll get a complimentary comprehensive exam, a set of X-rays, a visual, oral cancer screening, and a full mouth periodontal probing.
Experience affordable, high-quality dental care with Access Dental Now™. Contact us today to schedule an appointment!



Choice One Dental | (888) 480-1782